Taste of Tartu 2018 – Natty "Kashu" cashew butter
The joy is great – we won the honorable title of "Tartu Taste 2018"!
I can't put it all into words. Let's copy the article from the goodnews.ee portal!


A record number of festival friends visited the Tartu Food and Wine Festival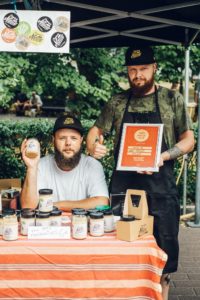 An estimated 15,000 people visited the Tartu Food and Wine Festival for the fourth time this year, which is more than 5,000 more than last year.
More than half a hundred domestic producers, a wine merchant, a pop-up restaurant and a home café offered different tastes to the people, who also came up with many surprising taste experiences. For the second year in a row, Tartu Maitse 2018 (white, red and sparkling wine) was selected with the help of the festival visitors and with the support of an evaluated jury.
Eight domestic products competed for the title of Tartu Taste this year. The title was awarded to the organic peanut butter product of Natty OÜ. In addition to the best taste of Tartu, the city's wines were also chosen for Tartu – red, white and sparkling wine. The 6-7-member jury selected the winning wines as a result of the blind tasting. In particular, the taste, aroma and general character of the wine were assessed. The sparkling wine category was won by Kiil ja Ko OÜ Cava Duc de Foix Brut Reserva, among the white wines the winner was Steinschaden Grüner Veltliner Löss & Stein, Kamptal Austria 2016 marketed by Momentin Eesti OÜ, and the best red wine was considered ).
"Tartu and South-Estonia's high-quality raw materials and exciting small producers are gaining more and more recognition, and the visitor record of this year's festival clearly shows that one pleasant multi-day food and wine event has been missing from this region so far," commented Helen Kalberg, Tartu's marketing manager. He added that work will continue with the organizers to make the Tartu Food and Wine Festival one of the most reputable events in the city and in the entire South Estonian region.
The Tartu Food and Wine Festival took place on 3-5 May. For the fourth year in a row, Küüni Street and parks were also home for the second year. Next year's festival will take place on 2-4. until August 2019.